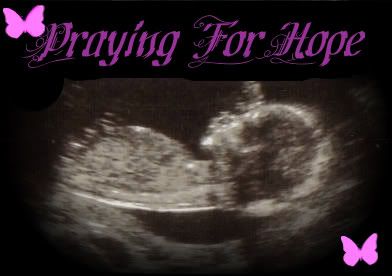 I am now pregnant again! We found out back in November. This one was a planned pregnancy. My husband and I couldn't be happier! We just know this one's going to work out. It can't happen twice right? Well, unfortunately we already have some major complications. At only 12 weeks pregnant, we had an abnormal ultrasound. The doctor said it didn't look like the brain wasn't forming right, so we went back in two weeks for another to be sure, and sure enough, he was right. She has a brain malformation called Holoprosencephaly, where the brain fails to develop into two hemispheres.She has the most severe form: Alobar. We're told there's only a 3% chance of her making it through labor, if she even makes it full-term, and she'd live in a "vegetative" state if she did survive. We were urged to terminate. This was the hardest thing I've ever been faced with. I'm ashamed to say we actually debated whether or not to terminate, but I knew there was no way I could. We've wanted a baby for so long! Needless to say, we didn't. We're just taking this pregnancy one day at a time hoping and praying she makes it here with us. I've asked the Lord to at least let me meet my little Hope. We have the highest of hopes for her hence the name. I am now 6 months pregnant and still going strong. I swear she hardly ever sleeps, she's always kicking :), which I can never get enough of!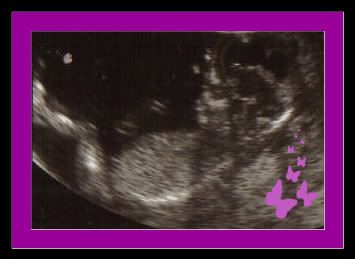 Our last ultrasound showed a growth on her face right beside her lips, our regular doctor thinks it is a growth due to clotting, that could easily be removed.I have a disorder called MTHFR (a folic acid deficiency) which puts me at high risk for blood clotting, which they think is what caused the HPE, they think she had a stroke early on due to me not being on Heparin. Well, the high risk doctor tried to say that the growth is a cleft lip, but I've had a 4d ultrasound done on her face and they didn't seem to think she had one. We have no faith in the high risk doctor, he's wanted me to terminate from day one and gives no extra time to this baby. I am currently in search of a new doctor to look at this for us, I've also emailed the pictures to Leslie at the Carter Center to see if she can have someone look at it. Regardless though, we're still going to love her no matter the circumstances. We go for another ultrasound on Monday, I'll make sure and let everyone know how she's doing. Last ultrasound she was 11 oz.
We have a wonderful support group and are just praying that our litlle Hope gets to be here with us soon. Everyone please keep us in your prayers and I will make sure and keep everyone posted on our journey.
April 13th, 2009
So I went to the doctor today. Where to begin?... I always find myself discouraged when I leave there. Good news is she's growing at a normal rate. She is now 1 lb. 14 oz! That's bigger than Chloe was when she was born. Bad news is her head is reading 2 weeks bigger than it should, which means she has excessive fluid buildup in her brain. He thinks this could cause complications for delivery. I may have to have a c-section b/c of the size of her head, or he said he could go in with a needle and extract the fluid, but this didn't sound safe at all to me. He doesn't think a c-section would help her chances at all. He doesn't think she even has a chance. She also was showing a severe cleft lip/palate, which is one of the reasons he thinks she's not going to make it. Babies born with this can't breathe or eat on their own. I find it so hard to find strength sometimes. I always tell myself I'm not going to get discouraged when I go to these appointments, but after hearing all this, I can't help but be. We're still going to get another doctor, but I'm afraid we're just going to hear the same things. I wonder how all the mothers going through this or that have been through this stay so strong. It gets so hard sometimes. All I want is a beautiful, healthy baby to bring home with me. I've wanted this for so long and sometimes it seems like it's never going to happen. I just have to keep going, trying to be strong, and one day, I know I will get my wish. I hope everyone will keep us in your prayers. For now, I just want to go curl up with my little girl and go to sleep. Maybe tomorrow will be better....

May 4th, 2009
So today we went to a new high risk doctor. I must say he was much better than the last doctor we were seeing. Although, he didn't have much hopeful information to give us, he was much more caring about our situation. She now weighs 2 lbs. 9 oz. She is still growing at a normal rate, which is good news. He doesn't recommend a c-section, and they don't think she'll be able to breathe on her own when she's born. She does have clefting, but also has a growth beside her nose. The last doctor thought that the growth was part of the clefting. He's starting to get worried about me going into labor early, or her passing inside me, due to the fact that only 3% of babies with holoprosencephaly survive to birth. So, I am constantly tracking her movements! So far, she's very active every day. At our next appointment, we're going to talk to a neonatologist and come up with a birth plan for her. We're not quite sure yet what this will include, but we think that if she can't breathe on her own, we don't want any kind of life support for her. We just want them to give her to us and let us spend every waking moment she has surrounded by her family, not with strange doctors and tubes. They said they could help her to breathe with life support, but she would most likely never be able to without them. However, if she can breathe on her own, we want them to do whatever is possible to help her with any other problems she may be having. We just don't want machines and tubes to be the only thing keeping her alive. We're going to leave it in God's hands, not the doctors. If she goes to be in heaven with her sister, at least we know she'll be in a much better place. This is hard to accept sometimes. All I really want is for her to come home and be with her Mommy and Daddy, and somehow this makes me feel selfish. People wonder how I'm so strong and taking everything so well. Well, I don't feel that way. Ever since we found out the diagnosis and decided not to terminate, I just prepared myself for the worst. However, I am definitely praying for the best. For now, I just try to enjoy this pregnancy as much as I can, because I have faced the scary fact that this time with her inside me is probably the only time I will ever have with her. I made the decision a long time ago that I was not going to go through this whole pregnancy depressed. All I can do is enjoy her every movement and every ultrasound. I think I'm prepared for what's to come, but when the day comes for me to have her, I know I won't be as strong as I am now. I am terrified for that day. Especially as I near 30 weeks. I should still have another 2 months with her, but I know anything can happen any day. I urge everyone to keep praying for us and for our little baby Hope as we get closer to this fast approaching day. We really appreciate all the support from our friends and family.